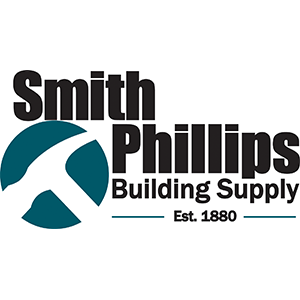 Pete Vitola, Associate Member —
Proudly serving the Piedmont since 1880, with locations in Winston-Salem and Statesville, Smith Phillips Building Supply provides a complete line of building materials including lumber, roofing, drywall, windows and doors, moulding and trim, cabinets, tools and hardware.
Smith Phillips Building Supply is committed to "Building Strong Community."  Spend wisely.  Spend locally.  Keep it Local!
Smith Phillips Building Supply is a locally owned, independent company that prides itself on providing outstanding customer service and quality materials.  For more than 137 years, Smith Phillips has provided professionals and homeowners the building supplies they need – everything from framing and finished lumber to windows and doors, interior and exterior mouldings, builders' hardware, cabinets, roofing materials and supplies, special order merchandise and almost any other building material for construction purposes.
Our employees are dedicated to providing the highest level of service; Smith Phillips is committed to being a leading building supply center in the Piedmont.  We are proud to carry on the heritage of being a locally-owned business that gives back to the community that supports its growth.
Smith Phillips operates two convenient locations to serve its customers in the Piedmont.  The larger facility in Winston-Salem incorporates the management offices, retail store and lumber yard, as well as onsite millwork and cut-to-size operations, with our second branch lumberyard and store located in Statesville.
Management Team
Smith Phillips boasts a management team that together has more than 186 years working at Smith Phillips Building Supply and serving the construction trades.  This team provides a rock-solid foundation and has worked together as a team for over 17 years! 
Sales Team
Smith Phillips' team of inside sales staff and outside account managers has a wealth of experience; they are courteous, knowledgeable and are available to recommend the best products for your new construction or remodeling project, serving our customers in the field or at the store.
Community Involvement
Smith Phillips strongly believes in giving back to our community.  Smith Phillips employees and management are actively involved in all aspects of the community from youth sports to philanthropic projects.  We have served on the board of the Home Builders Association of Winston Salem, Winston Salem Chamber of Commerce, Goodwill, Habitat for Humanity, SECU Family House and numerous others.  Smith Phillips also believes in supporting our community through in-kind donations and fundraising and has helped with numerous Boy Scouts of America projects, Brenner's Children's Hospital, The National MS Society, Winston-Salem/Forsyth County Schools Carpentry Program and many more.  Smith Phillips truly practices "Building Strong Community."
History
Smith Phillips has been in operation since the 1880s and has served our community for over 137 years.  M.D. Smith and Joe Phillips were the original founders; the company was incorporated in 1904.  Since its acquisition by The Boles Corporation in 1978, Smith Phillips has expanded and grown, adding the Statesville store in 2004.
Mission Statement
To create the best possible lumber and building material supply company by:
Maintaining a standard of excellence in all we do;

Serving our customers with pride and integrity, offering them value beyond their expectations;

Offering our employees a desirable and stable work environment, providing a preferred place to work in the region;

Continuing our tradition of caring that reaches beyond our customers into the community.
Contact
603 East 17th Street Winston-Salem, NC 27105 ​
336-722-8167
pvitola@smithphillips.net
Opening hours
Monday:
7:30am - 4pm
Tuesday:
7:30am - 4pm
Wednesday:
7:30am - 4pm
Thurstday:
7:30am - 4pm
Friday:
7:30am - 1pm
Saturday:
Closed
Sunday:
Closed