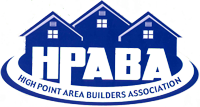 High Point Area Builders Association
Do Business with an Active Member
Our members include builders, contractors, members of the trade groups that support the building industry, including plumbers, electricians, realtors, mortgage brokers, home designers. If you have any home need we have a member who can help.
---
Who We Are
Builders and contractors, as well as others in the building industry, who have joined together in an association that serves our member businesses as well as the general public.
Mission
Our mission is to strengthen the local homebuilding industry by providing a forum of networking, education, activism and leadership while meeting the demands of the area's growing housing needs.
Membership Advantages
Quarterly General Membership Meetings with informative speakers and networking opportunities
Monthly Social Events
Education and advocacy opportunities
Annual golf tournament, skeet shoot competition, and Builders Ball (with reverse raffle)
3-in-1 Membership with NAHB and NCHBA and HPABA
Online Member Roster and Calendar of Events
Online access to update your business's information and Renew Membership
---
---
---