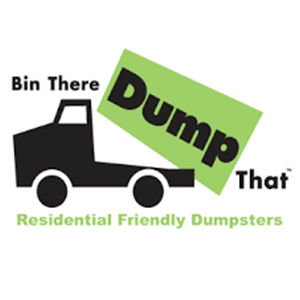 Vincent Nicholson, Associate Member —
Bin There Dump That – The High Point Dumpster Rental Experts
Discover how we make renting a dumpster in High Point, NC a simple and easy process.  Bin There Dump That is committed to making the dumpster rental process for the customer a seamless transaction, from placing an order for the needed dumpster size to delivery of the waste container in High Point to an immediate pick up when you no longer need the bin on your driveway.
How Do We Do This???
When you near completion of your home project (whether it be a remodel or a de-clutter), waste disposal is the final task to finish your project.  You'll want this to be done as soon as possible so you can enjoy your newly remodeled or de-cluttered space.
Rather than make multiple trips to the landfill, call our Dumpster Consultants who are always ready to pick up the phone and find a dumpster solution to your waste disposal needs.
When you and the Dumpster Consultant have found the right container for your needs, our Dumpster Delivery Experts will deliver the dumpster, when YOU need it; we pride ourselves on providing delivery with no more than 24 hours' notice.   When you no longer need the dumpster, call us back and we'll pick it up as soon as possible.
We Protect Your Driveway
Renting a dumpster shouldn't include a nasty scratch on your driveway when the bin is picked up.  Bin There Dump That uses a driveway protection system that includes laying down boards underneath the trash container.  We are committed to showing you that we respect your property.
Whatever your needs we've got a Dumpster Rental for you!
Your home project is coming near an end and your last task… waste disposal.  Certainly, you want the waste disposal to be done quickly and efficiently so you can start to enjoy the fruits of your labor and investments.  Bin There Dump That provides dumpster rentals in Winston-Salem and the surrounding area to make all waste disposal projects affordable, simple and fast.
Our Residential Friendly dumpster rental service is ideal for homeowners and contractors.  Here's what makes Bin There Dump That Residential Friendly:
Our trucks and bins are compact and can navigate easily through suburbs and residential areas.  Our dumpsters are the footprint of a minivan, so you can conveniently park your car on the other side of the waste container in a two-car driveway.
Dumpster Consultants are readily available to take your phone calls throughout the day (diverting your call away from voicemail) and collaborate with you on the best dumpster rental prices and size to fit your home project.
We carry additional inventory in order to be able to provide you a dumpster rental within 24 hours of ordering; we often can accommodate same-day deliveries.  We understand this type of responsiveness is critical when working with contractors.
We have an all-in pricing structure so you we'll never see any hidden fees.  Our pricing includes, delivery, pickup, disposal weight, 7 day rental.
Our Dumpster Delivery Experts show up to your home promptly and when YOU need the container.  Before placing the bin down on your property, they'll place boards down as part of our 'Driveway Protection System'; this assures the bin never touches your driveway.
The Delivery Experts will show you how to utilize the convenient, walk-in double doors that allow for easy access and loading; this is especially beneficial when you're trying to discard bulky items like furniture.  It's much easier to walk those items in through the French-style doors than trying to heave them over the sides of the traditional tub-style dumpster.
When our Delivery Experts return to pick up the bin, they'll sweep the area for any lingering debris that didn't make its way into the container, before transporting it to the local landfill.
We deliver our Residential Friendly dumpster rental service throughout Winston-Salem including Thomasville, Kernersville, High Point, Lexington and these zip codes:
27012, 27051, 27101, 27103, 27104, 27105, 27106, 27107, 27108, 27109, 27110, 27111, 27113, 27114, 27115, 27116, 27117, 27120, 27127, 27130, 27150, 27152, 27155, 27157, 27198, 27199, 27235, 27260, 27261, 27262, 27263, 27264, 27265, 27268, 27282, 27284, 27285, 27292, 27293, 27294, 27295, 27310, 27360, 27374, 27409, 27419, 27425, 27497, 27498
If you're ready to trust Bin There Dump That's Residential Friendly dumpster service to address your waste disposal project, contact our Dumpster Consultants at 336-370-6722
Do I need to tell the city that I am renting a dumpster?
No, you won't need permit if you rent a dumpster and place it on your own property, such as your driveway.  If you want to place it on public property, such as your street, some municipalities require a permit.
Call A Dumpster Consultant Now!
Our Dumpster Consultants are experts at finding the right container for your needs, and will be happy to schedule prompt delivery of your bin. We can help with any project:
Basement cleanout
Household cleanout jobs
Junk removal
Small to large home remodeling
Roof debris (shingles, metal, or slate)
Fire/water restoration
Construction/landscaping debris
Trash disposal
Contact
3325 Thomasville Rd Winston-Salem, NC 27107
336-370-6722
vincent@bintheredumpthat.com