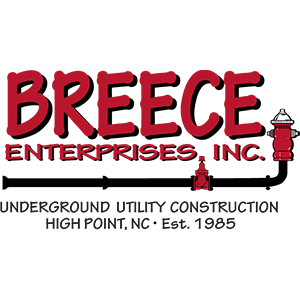 David Breece, Owner — Builder Member
Located in High Point, NC, BREECE ENTERPRISE INC. is an underground utility construction company specializing in water, sewer, and storm drain, serving the Triad area since 1985.
Breece Enterprises Inc. started it's operation in 1985, led by its founding members Sam Breece and Judy Breece, who brought 25 years of experience to this new venture.  Shortly after its inception, their sons Robb Jr. and David, started working with them and a family business was created.  While Sam oversaw the company, Robb managed and executed daily operations in the field, and David handled estimating, purchasing and deliveries.  In 2004, Sam retired. Robb followed suit in 2012, although in between hunting season and traveling, he stays on hand to provide any needed assistance.
OUR MISSION
We remain dedicated to performing projects in a timely manner, staying within or under budgets, and maintaining a caring and conscientious workforce, which we have found to be vital to building lifelong relationships with owners and developers.
SAFETY FIRST
At Breece Enterprises, safety comes first and we will continue to never jeopardize someone's safety for the sake of production. Our management team evaluates safety concerns on a daily basis. Additionally, all new employees are subjected to drug testing, as well as current employees must submit to random testing.
BONDING
Breece Enterprises Inc. holds an unlimited State of North Carolina Contractor's License and can furnish Performance and Payment Bonds to meet even the most stringent requirements. We have partnered with the same insurance and bonding company since our inception in 1985.
Contact
2203 Eastchester Dr. Ste 105. High Point Nc 27265
336-841-0889
dcmeow3@yahoo.com