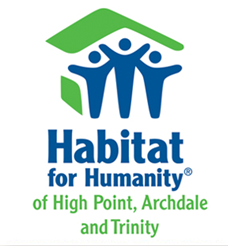 Susan Wood, Executive Director —
Habitat for Humanity of High Point, Archdale and Trinity, Inc. is an ecumenical, Christian housing ministry working in partnership with God and people everywhere to build simple, decent, safe houses so that all people can grow into all that God intended.
The Habitat affiliate in High Point was founded in 1986 through the dedication of eight concerned citizens guided by the Reverend Ernie Price.  Its first house was completed in 1988, and through the end of 2013 the Habitat affiliate has completed 101 houses in our community.  These houses are home to over 450 people, 300 of them children.  These families and children are the heart of the work that Habitat does in our community.
Habitat is currently partnering with the City of High Point to develop new homes near Washington Terrace Park. This exciting new development brings together the vision of the city's Core Plan with the need for affordable housing in the High Point community!  With 28 families in homes, and another 7 lots to be developed in this neighborhood, Habitat is changing the face of this community.
Contact
133 Montlieu Ave
336-887-8388
susanwood@habitathp.org