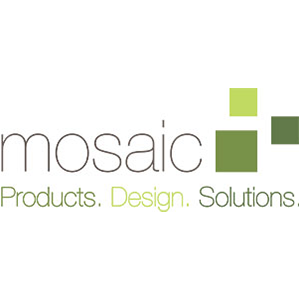 Carson Teachey, Branch Manager (Associate Member) —
Bob Hughes Sr. founded the Mosaic Tile Company in 1972 with one goal in mind: to provide the best possible service to his customers by offering unique tiles for bathrooms and kitchens.  Now, 47 years later, the team at Mosaic continues to deliver that very promise.  Robby Hughes, Bob's son and current president and CEO of Mosaic, leads the team responsible.
In addition to Robby, Mosaic boasts a highly capable leadership team, including Mike Rockefeller, Chief Financial Officer; James Igoe, Chief Sales Officer; Sean Schaefer, Chief Operations Officer; and Alison Geare, Chief Marketing Officer.  With over 150 dedicated employees and 10 locations, Mosaic still operates with one goal in mind: to provide the best possible service – the Mosaic Experience – to each and every customer, each and every day.  Due to Mosaic's leadership and well-informed team, the company has grown to become one of the largest independent tile distributors in the Mid-Atlantic region.
Headquartered in Chantilly, Va., Mosaic occupies a broad geographic footprint, serving customers in Maryland, Virginia, North Carolina, West Virginia, Delaware and Washington, D.C.  Mosaic's showrooms are open to the public, and appointments for full project design services are encouraged.
Mosaic: Products. Design. Solutions.
By definition, the word Mosaic is a noun that refers to something made up of different elements that together form a pattern.
Our goal here at Mosaic is to provide you with three key elements:
Products
Design
Solutions
When these three elements join together, a beautiful result is virtually guaranteed.
Products.
Because Mosaic has established partnerships with well-known suppliers and manufacturers across the globe, the company is able to buy directly from dozens of worldwide manufacturers that offer top-quality, high-end products.  The company's partners provide top-of-the-line products and service allowing Mosaic to offer something for every customer in the Showroom.
Semi-custom and custom cabinetry (available through select locations only) can truly create the space of your dreams.  Mosaic understands that when it comes to this type of investment, quality is paramount.  Our partnerships with Fieldstone, Teddwood, and Wellborn cabinetry were specifically chosen to promote only the highest quality US manufactured product.
Mosaic has partnered with quality plumbing manufacturers that produce material in Poland, Milwaukee, California, and China.  These plumbing manufacturers are employing the latest and greatest in cutting edge technology and design.  From full shower spa systems to simple lavatory faucets, Mosaic offers an incredible variety in a myriad of finishes.
Offering over seven different manufacturers of lighting, Mosaic has hand selected products that fit our clients tastes and budgets.  Mosaic is proud to join forces with lighting manufacturers that produce both here in the US, as well as overseas.
Ceramic and porcelain tiles offer a classic look for many applications, and are popular in kitchen and bathroom projects.  Composed of clay, these tiles are strong and resist moisture damage and stains.  Easy cleaning and installation are major benefits of these staples of tile work, and glazing offers added protection for indoor or outdoor use.  In addition, the company offers a range of natural stone tiles that vary in material and durability.  Mosaic imports several types of stone, each in different colors and textures.  Marble, Limestone, Travertine, Slate, and Quartzite stones are available brushed, honed or polished and add a unique, natural touch to any project.  The company has many glass options as well.  Available in cut, cast, layered and fused formats, these tiles range in color, texture and translucency, too.
Design.
At Mosaic, experienced Showroom Sales Consultants guide customers through a large international selection of products, ensuring the exact materials, colors and layouts are right for their specific project.  The company has honed its ability to directly source products including tile & stone, semi – custom and custom cabinetry, hardwood, luxury vinyl tile, plumbing, lighting, shower systems, and more.  Allowing single source selections for trade referral clients continues to be the main goal for Mosaic.
Solutions.
While Mosaic does not install specifically, the team does work with a network of skilled contractors and tradesman who have the experience and qualifications to implement the designs created by the customer and Mosaic's Showroom Sales Consultants.  The company acknowledges that relationships with customers and contractors alike are key, as end-user satisfaction is the company's priority.
Mosaic value's each client's approval seriously.  Our Doswell, Va., Central Servicing Center stocks more than 7 million square feet of material, to allow for next-day delivery for most tiles, stones, luxury vinyl planks and vanities.  This, in turn, makes it easier for both contractors and customers to see a finished project in house.  Mosaic is focused on offering top-level service, as well as a pleasant, professional experience in the showroom, in the warehouse and during installation.
As a singular source, providing an outstanding selection of products coupled with top-notch customer service, Mosaic has found success for over 40 years.  However, Mosaic does not believe in taking success for granted.  By always thinking of the customer and what trends are on the horizon, the team at Mosaic is constantly renovating and updating showrooms, investing in both service and technology to offer cutting-edge design and products.  The company's new innovations offer more efficient approaches to business, and customers receive the benefits as well.  These upgrades are a work in progress.  Mosaic continues to make improvements that will appeal to a broad clientele, whether in an urban D.C. office or a country kitchen in North Carolina.
Mosaic offers a distinctive setting for customers as a result of the team's desire to provide an experience that strives to offer memorable service and an array of products to every client every day: the Mosaic Experience.
Contact
4008 Spring Garden St Greensboro, NC 27407
336-218-8300
cteachey@mosaictileco.com
www.mosaichomeinteriors.com
Opening hours
Monday:
8am - 5pm
Tuesday:
8am - 5pm
Wednesday:
8am - 5pm
Thurstday:
8am - 5pm
Friday:
8am - 5pm
Saturday:
9am - 1pm
Sunday:
Closed